Welcome!
This web site is dedicated to the redevelopment of the Rock Alley Slope, a hillside in the Oakcliffe neighborhood of South Oakland in Pittsburgh, PA. Part of this redevelopment project will be to construct a bicycle and pedestrian path that will connect South Oakland to the Eliza Furnace Bicycle Trail, facilitating travel from Oakland to Downtown Pittsburgh, the Southside, and Greenfield, as well as to the Pittsburgh Technology Center across Second Avenue.
Proposed Rock Alley Bicycle and Pedestrian Path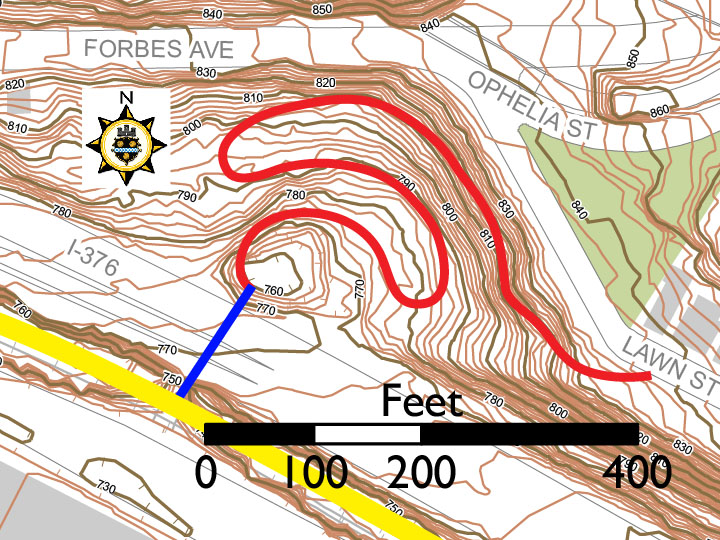 As seen in the map above, the proposed location of the bicycle and pedestrian path is shown in  RED , the existing pedestrian tunnel beneath Interstate 376 is shown in  BLUE , and the Eliza Furnace Bicycle Trail is
shown in  YELLOW .
History of the Rock Alley Bicycle and Pedestrian Path
In the early 1900s, the most emblematic area in the Soho District of South Oakland was called Rock Alley, a dirt path that ran along the Oakcliffe hillside, lined by workers' homes. The Soho District once housed more than 100 families, but was abandoned after the construction of Interstate 376 cut into the hillside.
In 2008, David and Michelle Panasiuk petitioned the City of Pittsburgh to become the stewards of this hillside, with the intent of transforming the overgrown land into a public Greenway.
In 2011, the City of Pittsburgh granted this petition, and the Rock Alley Community Action Team was formed. This team, named after the Rock Alley Way, is now working to reroute and improve existing paths along the hillside. These improvements will create the Rock Alley Bicycle and Pedestrian Path to connect Lawn Street to Second Avenue, allowing easy travel from South Oakland to the Eliza Furnace Bicycle Trail.
The Importance of the Rock Alley Project
The importance of the Rock Alley bicycle path connector becomes clear when one compares this route with the alternative routes that are currently available for cyclists and pedestrians traveling from Oakland to the Eliza Furnace Trail. We document these routes along with recommendations for their improvement.
As shown, the best alternative to the Rock Alley connector is the Panther Hollow Trail, which from many locations requires that a rider traverse a mile of dense urban streets in the opposite direction of Downtown Pittsburgh, and then ride back on a looping trail that takes them another two miles out of their way:
Other possible bicycle path connectors range from dangerous to outright deadly, and are also documented. Where possible, we make recommendations for the improvement of these routes:
Finally, there are bike routes that are speculative, and the high and low points of these proposed routes are documented here. The best of these speculative routes will require the construction of short bicycle path connectors. The worst of these routes are far out of the way, or will be cost prohibitive to build: