Lawn Street Connector
For many people in South Oakland, fighting their way east along Forbes Avenue to reach Bouquet Street and finally making their way down to the Panther Hollow Trail can be as much as two miles out of their way, and hard to use under the best of conditions. A more direct route to the Eliza Furnace Trail is along the Boulevard of the Allies, through a small residential neighborhood, and onto Lawn Street. Until the Rock Alley bicycle connector opens on the west end of Lawn Street, the best current route for South Oakland residents to reach the Eliza Furnace Trail is from the east end of Lawn Street. Although the best option, this route is still challenging for cyclists.
East End of Lawn Street
This first image shows the last hundred foot of Lawn Street where it drops off steeply to reach a staircase at the top of Mackey Street. Due to the overgrowth of trees, this stretch is frequently covered with leaves and other natural debris, frequently making it slippery to walk on.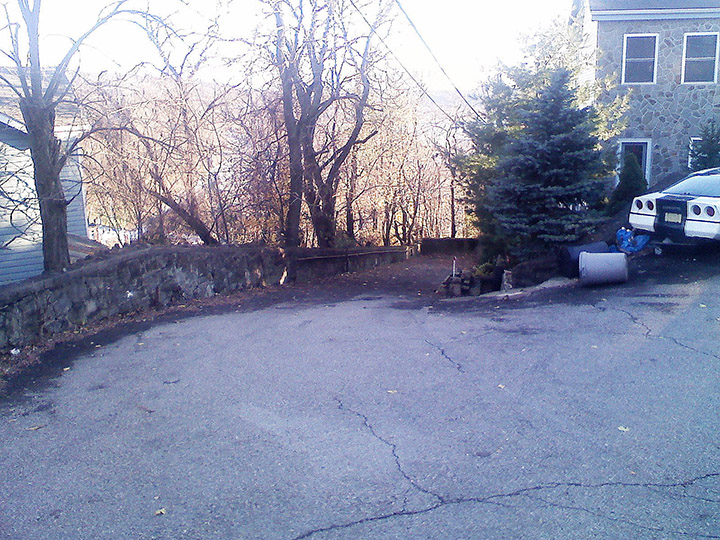 Down Lawn Street Stairs

At the end of Lawn Street there is an old wooden staircase.  The City of Pittsburgh owns and repairs this staircase.  Local residents take responsibility for keeping the foot of lawn street and this stairway swept of leaves and cleared of snow.  This stairway, although kept reasonably clean, is scary and challenging to walk down, and harder still to traverse if one is carrying a bicycle.  Leaves or ice on this wooden stairway make descending or climbing it even more treacherous.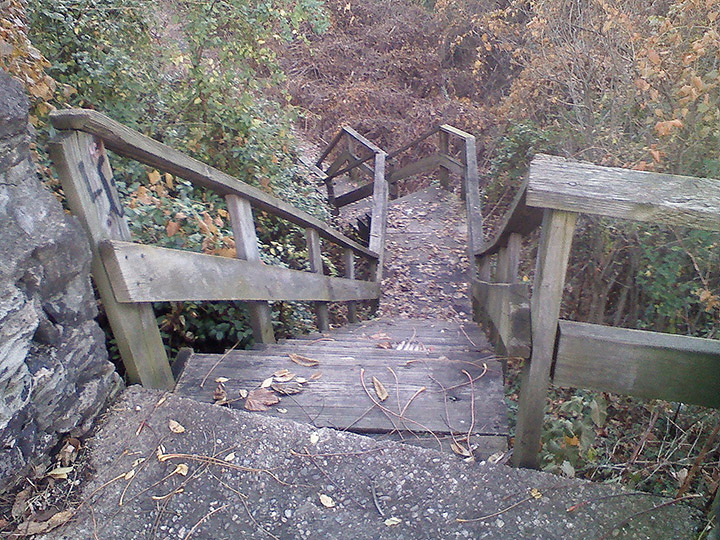 Up Mackey Street to Lawn Street Stairway

Viewed from the top of Mackey Street, one can see the problem that cyclist have when carrying their bikes down this steep and narrow staircase. Ideally, this stairway should be replaced with a wider and less steep staircase constructed of cement. The notch in the stone wall at the bottom of Lawn Street is wider than the stairway, suggesting that there was a wider stairway at one time, or one was planned for this location. This wider staircase could have a groove along each side that would allow cyclists to roll their bikes instead of carrying them while ascending or descending.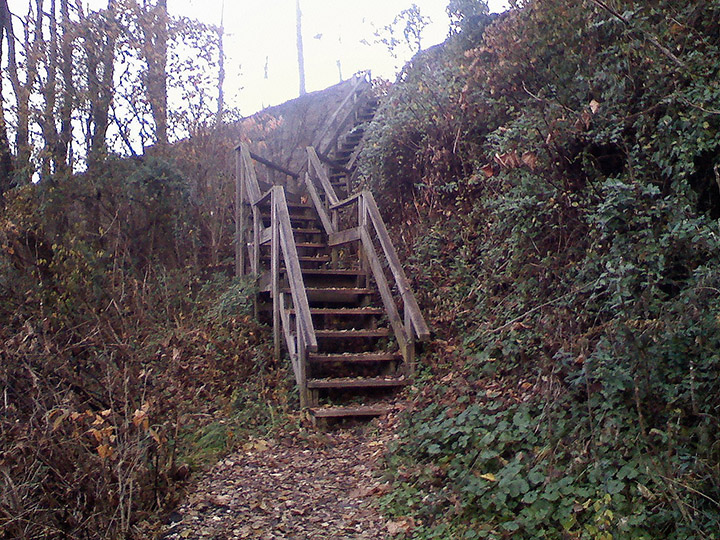 Top 150 Feet of Mackey Street
It is unclear on city maps if the top of Mackey Street actually does intersect with the foot of Lawn Street. It is apparent that this top 150 foot of Mackey Street has never been paved. The staircase exiting from the foot of Lawn Street onto Mackey Street deposits travelers on a sometimes muddy, often overgrown path that goes more than 100 feet before the paving begins. Ideally, Mackey Street will be repaved, and this pavement will be made to extend all the way up to the foot of the staircase that extends down from Lawn Street.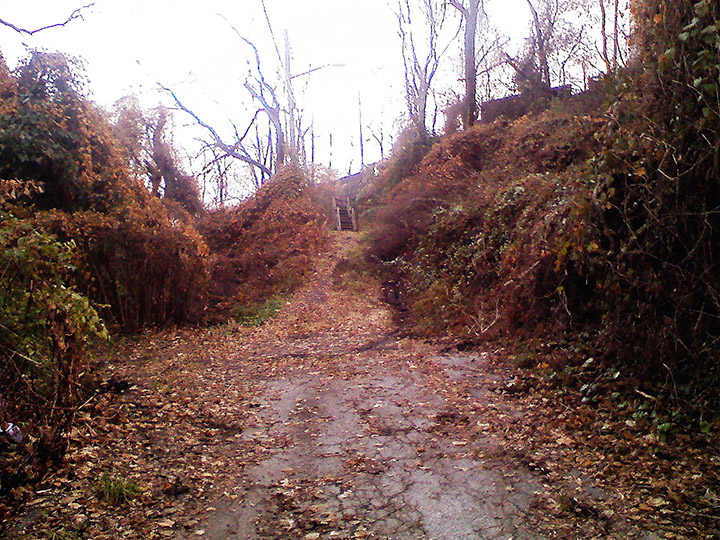 View of Mackey Street
It is clear that Mackey Street has not been paved in many years. It may be that this street, which has few residents, has been designated as a low priority in the street repaving sequence. It is our recommendation that the repaving of Mackey Street be prioritized based not only on the residents of this street, but also based on its use as a bicycle and pedestrian connector from Oakland to Downtown and the South Side via the the Eliza Furnace Trail.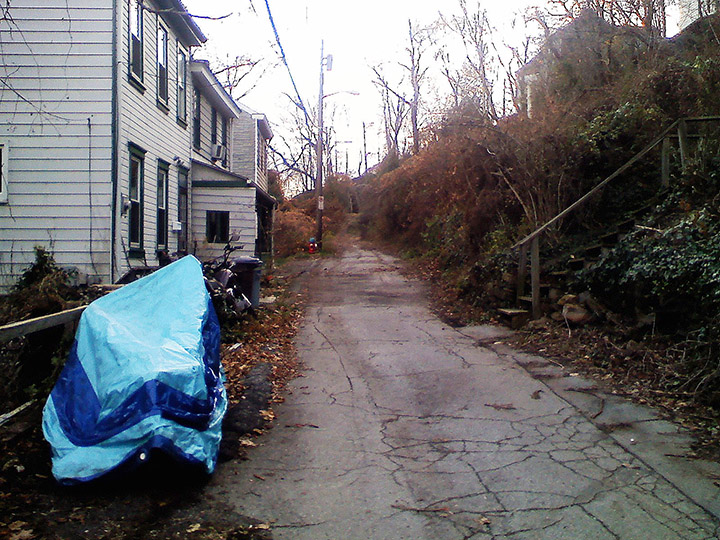 Mackey Street Down to Hodge Street
The condition of the pavement where Mackey Street intersects Hodge Street is so broken and uneven that it is almost impassable by foot, and is dangerous by bicycle. Note the mostly obscured staircase on the right side of this badly overgrown street. At one time, this stairway had a steel railing for pedestrians.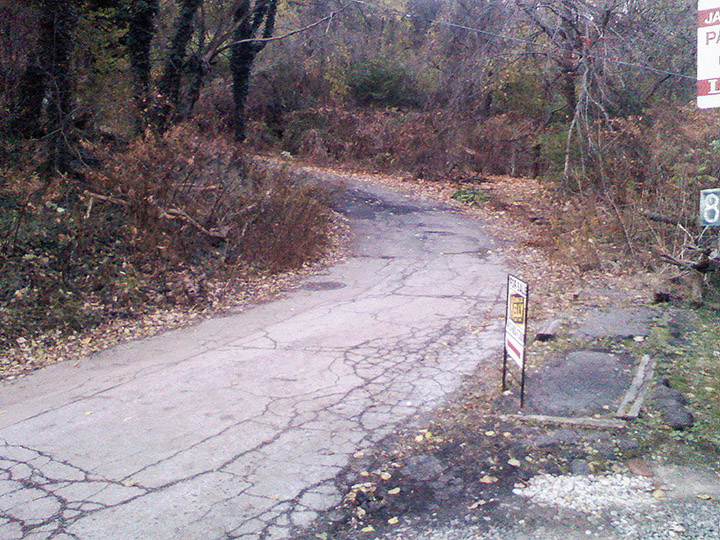 View up Hodge Street
The entire length of Hodge street needs to be repaved. Clearly, Hodge Street has been patched for many years on top of what was an insufficient roadbed. With the reconstruction of the staircase at the top of Mackey Street, this road can serve as a useful extension to the Eliza Furnace Trail.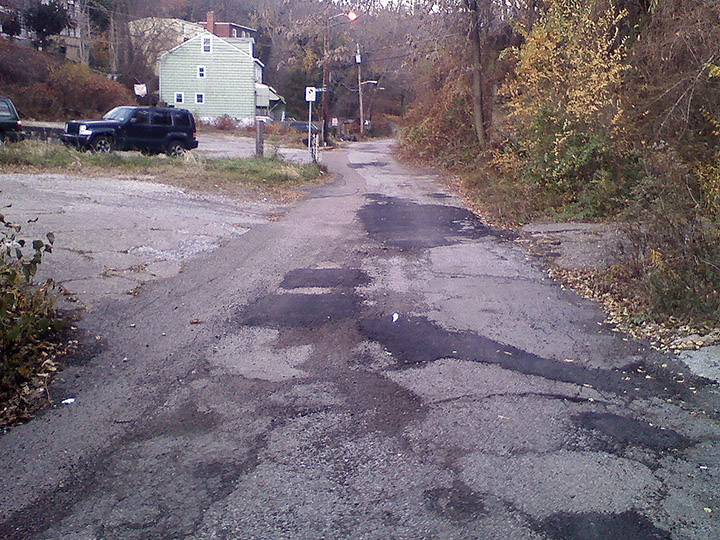 Hodge Street passing under Interstate 376 Exit Ramp
One of the advantages of using this street is that much of the existing infrastructure has already been built. The problems of passing under this existing roadway have already been solved and paid for. Although Hodge Street may appear poorly maintained, it is an ideal bike route because of its low traffic and gentle slope. As part of our project to expand the Pittsburgh bicycle infrastructure, we recommend that Hodge Street be repaved.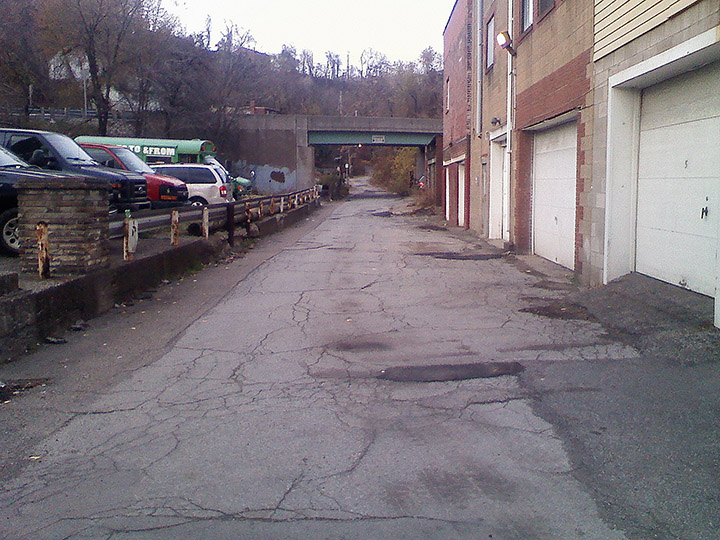 Embankment on Bates Street to Eliza Furnace Trail
Prior to the reconstruction of the Eliza Furnace Trail Bridge over Bates Street, travelers were able to ride directly onto the Trail. Now that the Eliza Furnace Trail Bridge has been raised to a higher elevation to allow taller trucks to pass below, this connection has not be reestablished. There is a route where travelers can pass under the Trail and continue west on Second Avenue for a half mile and then use a wooden ramp to enter the the Eliza Furnace Trail. From the muddy path, it is clear that many travelers would rather walk up this steep embankment.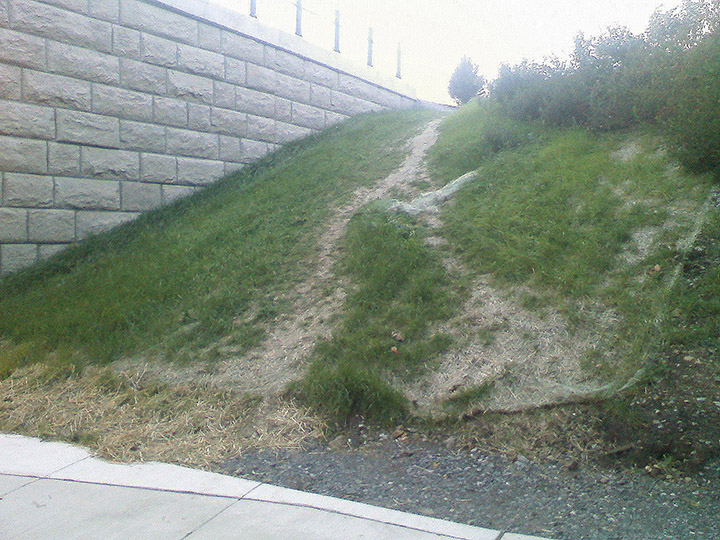 View Down Embankment to Bates Street
Looking down from the top of the Eliza Furnace Trail Bridge, it is even clearer how steep this embankment now is. One suggestion is that a staircase be placed on this embankment to formalize where travelers already go.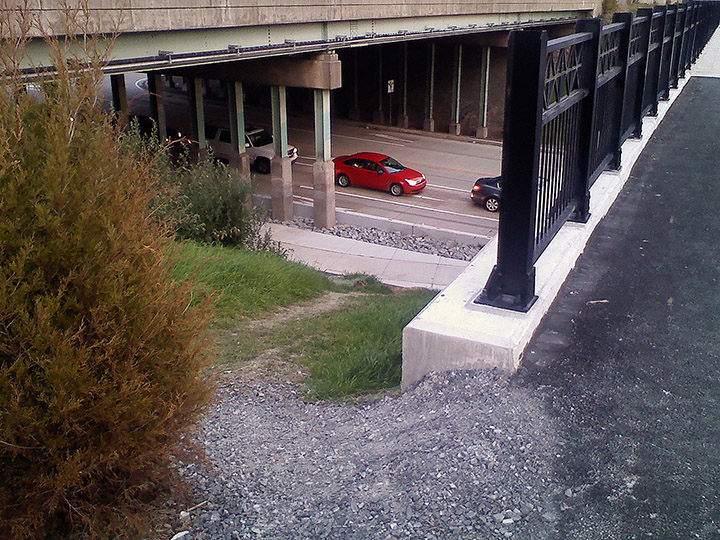 Location of Possible ADA Compliant Ramp
One reason given that there was not a staircase built in this location is that this bridge was to be fully Americans with Disabilities Act (ADA) compliant. Although a more detailed study will need to be done, there does appear to be adequate distance to construct an ADA compliant ramp from Bates Street up to the Eliza Furnace Trail Bridge.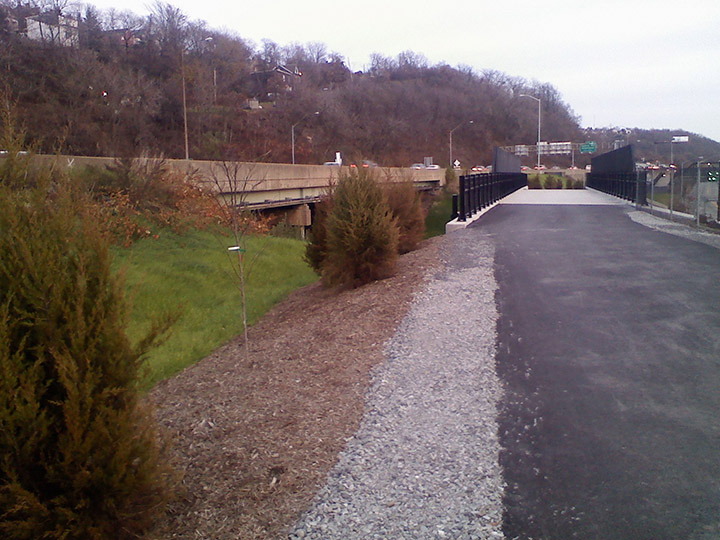 Hot Metal Bridge Bike Path over Second Avenue
Once travelers can get onto the Eliza Furnace Trail, it is less than a quarter mile ride east to the recently renovated Hot Metal Bridge bicycle and pedestrian walkway, which takes travelers over to the new shopping areas on the South Side.